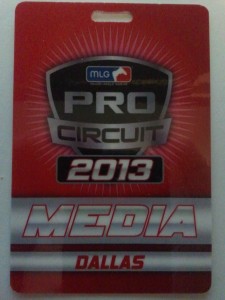 On Monday, I got back from my third (and final, for a while at least) trip to a major city.  I've previously discussed my trips to Boston and New Orleans, which were both for work, but this trip was to a huge Starcraft 2 / League of Legends tournament at MLG Dallas.  I went there with my friend Ethan and some other people from Leaguepedia, a wiki devoted to League of Legends that I volunteer some development time for.
I had been to an MLG previously (Columbus 2012), but this was my first time going as more than just a spectator.  It was a really cool experience — I got to meet a bunch of pro players / help with interviewing them, and had access to areas that were otherwise off-limits.  I'm a big fan of e-sports, and MLG is probably the event to attend (in North America, anyway) for professional videogame competition.
More than the event itself, though, I really enjoyed meeting the people I had been working with previously — the guys from Leaguepedia were all super cool, and the trip had a different pace than all the trips I'd been taking with SAnToS.  There also was an after-party, which was a total blast.  I got to meet a number of big names (Flash, djWheat, itmeJP, Day[9] and a whole lot more) which made it the highlight of the whole trip.
I'm definitely happy to be back home for a while, but traveling is / was a good time too.  Whether it's my work with Leaguepedia or with SAnToS / K-State, meeting people in-person was fun, and makes working with them remotely much easier.